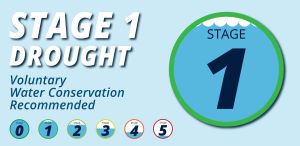 A "Stage 1" drought advisory is now in effect for the City of Oberlin.
Water demand on June 17th exceeded 500,000 gallons per day, triggering the first stage of the Cities drought response.
Stage one water conservation consists of VOLUNTARY measures including, but not limited to: curtailing outdoor water use and making efficient use of indoor water, i.e. wash full loads, take short showers, don't let faucets run, etc.
More information can be found at https://www.oberlin-kansas.com/uploads/water-conservation-tips.pdf
Daily Water Use:
7/1/21 373,000
7/2/21 414,000
7/3/21 390,000
7/4/21 405,000
7/5/21 476,000
7/6/21 366,000
7/7/21 341,000
7/8/21 324,000
7/9/21 438,000
7/10/21 349,000
7/11/21 369,000
7/12/21 501,000
7/13/21 424,000
7/14/21 490,000